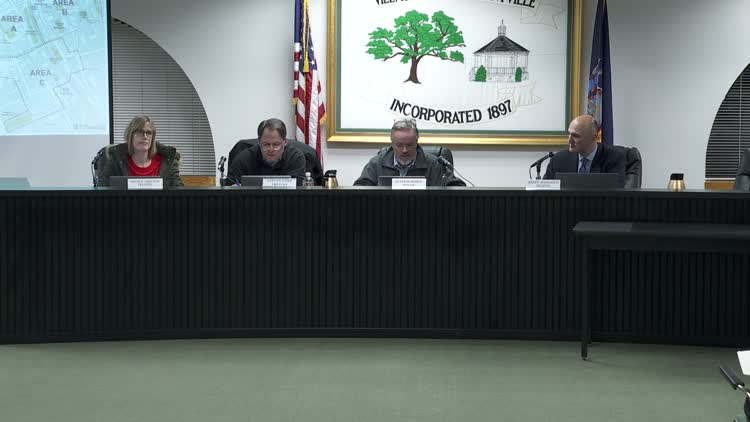 The Village Board Meeting of 02-11-19
PRESENTATION:
Downtown Parking Analysis by Georges Jacquemart, BFJ Planners
PUBLIC HEARING:
Manville Rd Corridor Improvement and Civic Space Project
RESOLUTIONS:
Res. No. 2019-21 Village Statement on the Proposed Legalization of Retail Marijuana Sales in New York State
Res. No. 2019-22 Schedule Public Hearing / Local Law Prohibition of Retail Sale of Marijuana
Res. No. 2019-23 Authorize Village Administrator to Sign Inter-Municipal Agreement with Westestchester County for Organic WasteRes. No. 2019-24 Approval of 2019 NAMI Ribbon Campaign
Res. No. 2019-25 Mayoral Appointments to Planning Commissions and Architectural Review Board
Res. No. 2019-26 Appointment Superintendent of Recreation / Matthew Trainor
Res. No. 2019-27 Approval of Pre-Check Register
Res. No. 2019-28 Approval of Minutes
Res. No. 2019-29 Designation of Polling Places and Hours for Village Election March 19, 2019
Res. No. 2019-30 Accept Resignation Intermediate Clerk Part Time/ Benjamin Scherer
Res. No. 2019-31 Approve Budget Transfers
Guests:
Georges Jacquemart, BFJ Planners
This header is a placeholder
Welcome to PCTV76. With PCTV76's On Demand system, you can watch previously broadcast content from our schools, local government and public community channels. You can also watch live broadcasting now from our live feed.
PCTV News
PCTV's Annual Appeal
Dear Friends and Supporters,
We thank you for your continued support and dedication to public access and hope you will consider PCTV in your giving plans this year. Please enjoy the holiday season with your friends and family and consider supporting our mission to be the voice of the community. click here to open our donation page for more info.