Recently Added
View All recently added episodes and specials.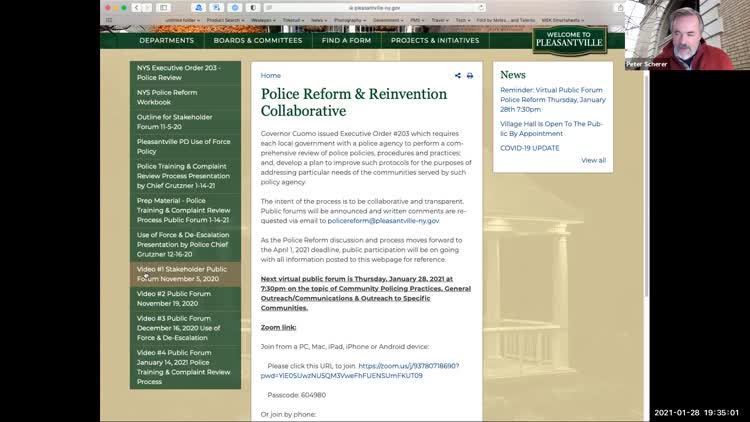 Community Policing Forum of 01-28-2021
The Village Board holds a Police Reform and Reinvention Forum Collaborative Forum on Community Policing. Recorded 01-28-2021.
Category:
Pleasantville Public Access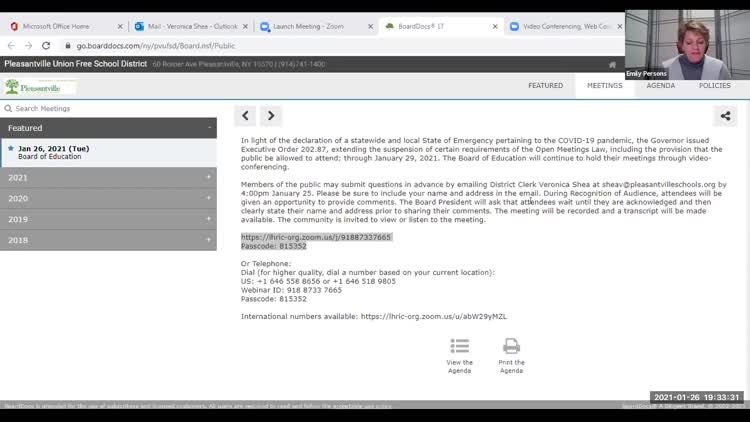 The Board of Education Meeting of 01-26-2021
The Board of Education receives a Financial Update and a Report on Diversity, Equity, & Inclusion in the Pleasantville School District's three buildings.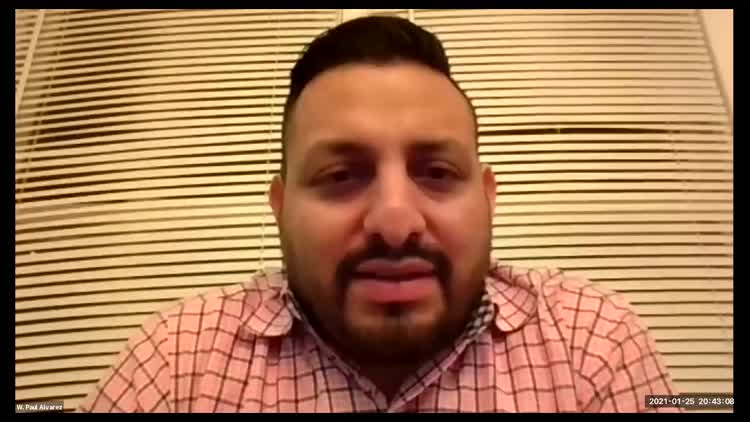 The Village Board Meeting of 01-25-2021
RESOLUTIONS:
Res. No. 2021-11 Authorize Village Administrator to Sign Agreement for 2021 North East Westchester Special Recreation Inc.
Res. No. 2021-12 Approval of Village Account of Unpaid Taxes for Fiscal Year End 2021
Res. No. 2021-13 Authorization to Sign Agreement for Auditing Services
Res. No. 2021-14 Approval of Minutes
Res. No. 2021-15 Approval of Budget Amendments FYE 2021
Res. No. 2021-16 Approval of Payment of Claims FYE 2021
Res. No. 2021-17 Authorizing Acceptance of Site Improvement Performance Bond / Pleasantville Lofts LLC 70 Memorial Plaza
Res. No. 2021-18 Approval of Appointment to Motor Equipment Operator / Michael Gallagher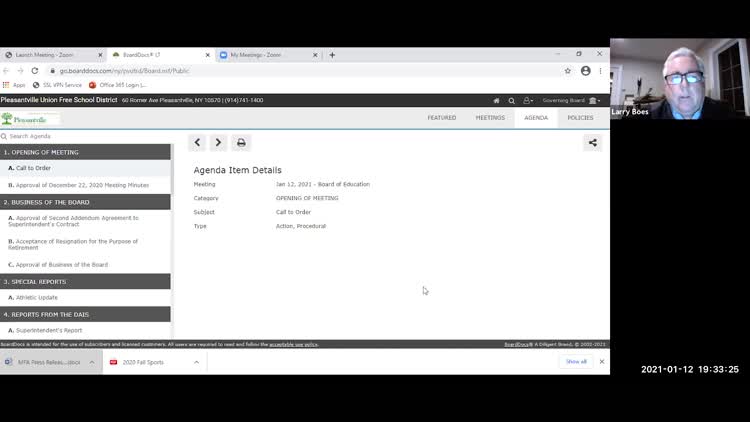 The Board of Education Meeting of 01-12-2021
The board of education receives an Atheletic Report Update and accepts the Superintendent's resignation for the purposes of retirement.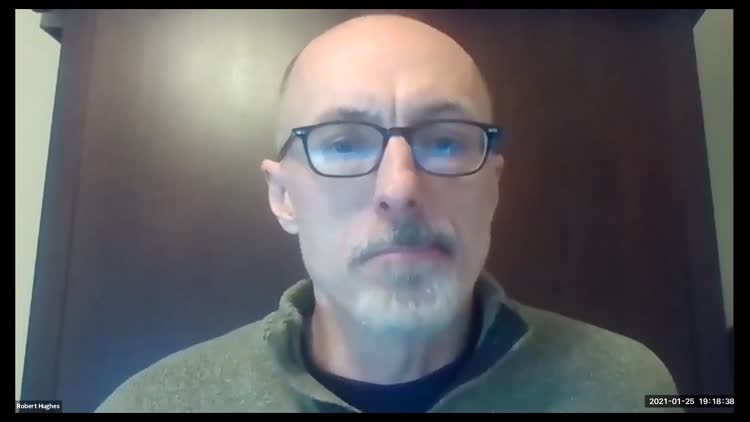 The Village Board Work Session of 01-25-2021
Work Session Agenda:
7:00pm Discussion Outdoor Dining - Soul Brewing, Wheeler Ave
7:10pm Discussion Outdoor Dining - Dolphin South, Wheeler Ave
7:20pm Discussion Outdoor Dining - Vella Kitchen, Washington Ave
7:30pm Update and Discussion on Police Reform Process
7:50pm Discussion Police Locker Room and Lower Level Renovations
8:30pm Executive Session for Discussion of Real Property and Personnel Matters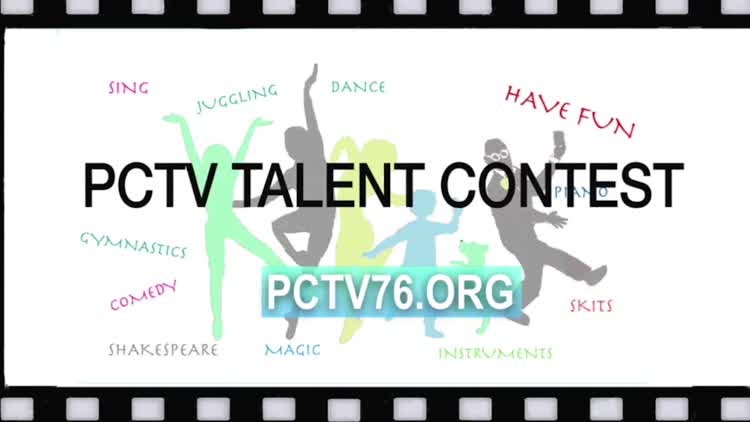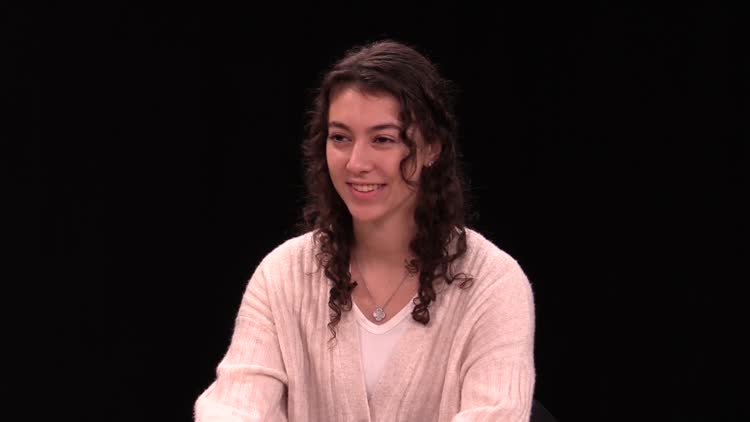 Student Choices & Strategies
Host, Emily Rubin Persons, discusses "Student Choices and Strategies" with Julia O'Reilly, PHS Student, and Joyce Connell, Coordinator of School Counseling.
Guests:
Julia O'Reilly Joyce Connell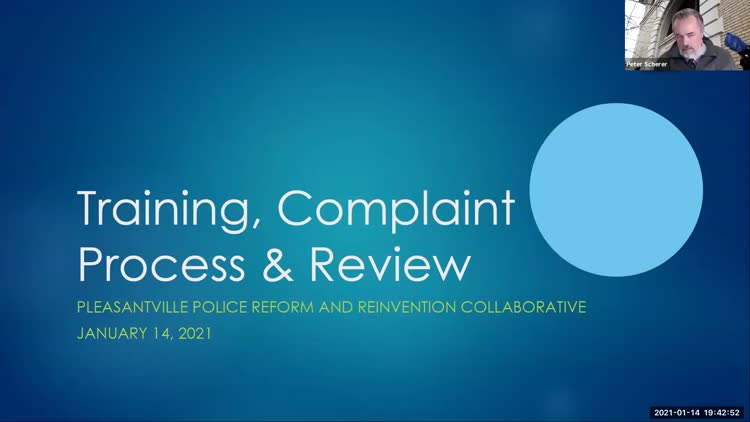 Police Reform & Reinvention of 01-14-2021
Governor Cuomo issued Executive Order #203 which requires each local government with a police agency to perform a comprehensive review of police policies, procedures and practices; and, develop a plan to improve such protocols for the purposes of addressing particular needs of the communities served by such policy agency.
The intent of the process is to be collaborative and transparent. Public forums will be announced and written comments are requested via email to: policereform@pleasantville-ny.gov.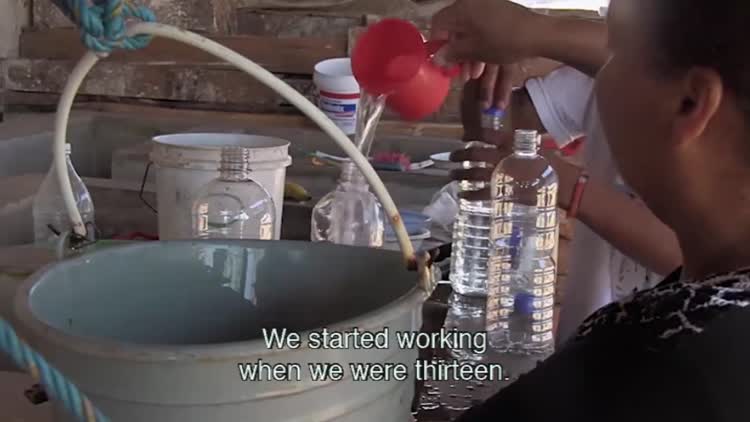 Mexico and the Umited States share the biggest border between the first and third world. This film focuses in on the "Patronas", a group of Mexican women who make food and toss it to the for the helpless.
Category:
Pleasantville Public Access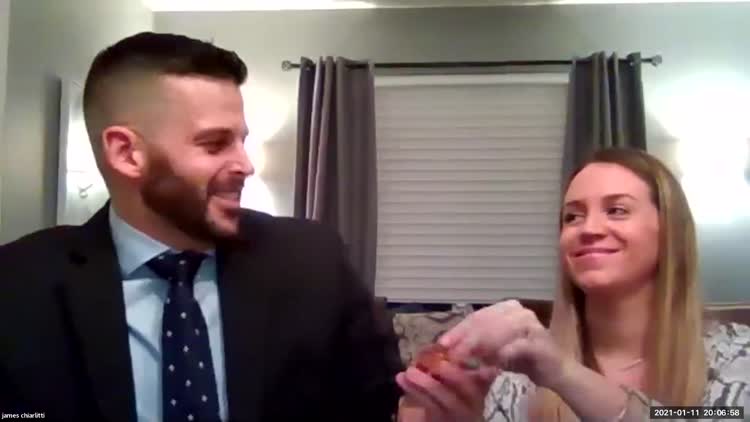 The Village Board Meeting of 01-11-2021
PROMOTION CEREMONY:
Pleasantville Police Department Promotion to Detective: Police Officer James Chiarlitti
PUBLIC HEARING:
Introductory Local Law 6 of 2020 Parking Restrictions Irvington Street
RESOLUTIONS:
Res. No. 2021-1 Approval of Stipends for 2020 Pleasantville Music Festival
Res. No. 2021-2 Accept Donation Electrical Supplies / Harry Borg
Res. No. 2021-3 Accept Donation to Clinton Street Center / Andrew Tobin
Res. No. 2021-4 Approval of Minutes
Res. No. 2021-5 Approve Appointment Deputy Village Treasurer / Heli Shah
Res. No. 2021-6 Approving Authorized Signatory for Financial Transactions / Heli Shah
Res. No. 2021-7 Approval of Payment of Claims FYE 2021
Res. No. 2021-8 Authorize Village Administrator to Sign Letter of Commitment for Local Actions Saw Mill River Watershed
Res. No. 2021-9 Authorize Village Administrator to Sign 2020-2021 Independent Contract Services Agreements with Student Assistance Services / DFC Pleasantville S.T.R.O.N.G.
Res. No. 2021-10 Consider the Adoption of Introductory Local Law 6 of 2020 which upon Passage will become Local Law 1 of 2021 to Restrict Parking on Irvington Street
Guests:
Police Officer James Chiarlitti